Nature & More: sowing seeds for bees
Bees need our help and this european project is assisting them by distributing bags flower seeds.
Its excellent news that the international "Bees love organic" campaign finds overwhelming response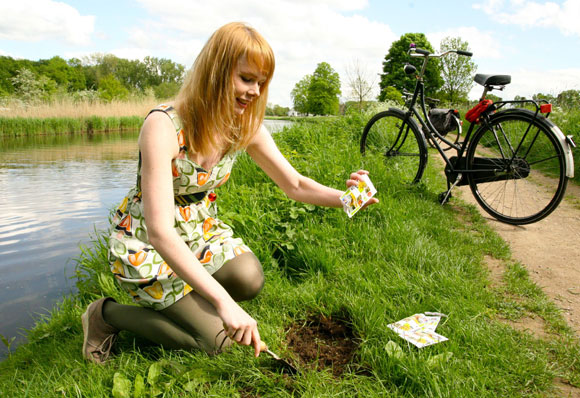 More than a thousand Dutch cyclists are currently transforming a 1000 kilometre long bicycle trail into a "bee trail", by sowing organic flower seeds; 23 German organic wholesalers and retailers  are distributing 280,000 bags of flower seeds with their organic products; the Youth Initiative Program in Sweden created a flowering meadow as well as a short YouTube video featuring buzzing students. All these activities, large and small, are part of the international "Bees Love Organic" campaign that was recently launched by Nature & More. Nature & More, together with a number of NGO's, is distributing 400,000 bags of organic flower seeds throughout Europe. The message: let's start helping the bees, by sowing seeds and eating organic. The campaign will run through the summer of 2012.
It is alarming that beekeepers and researchers are reporting the worldwide drop of bee populations with increasing worry. In a scientific publication from 2007, A.M. Klein estimated that 35% of global food crops depend on pollinators; of which bees are the most prominent. So, statistically speaking, more than 2 billion people would have their existence immediately threatened, if the bees and other pollinators vanished off the earth. This spring, Science Magazine published two articles claiming that neonicotinoid pesticides are at least partly responsible for the infamous Colony Collapse Disorder.
Nature & More, a Dutch-based international distributor of organic fruits and vegetables with an estimated  100 Million USD turnover, decided to take positive action. Assisted by several environmental NGO's, "The bees love organic " campaign was established. One of its goals is to distribute 400,000 free bags of organic flower seeds for bees in Germany, Belgium, the Netherlands, France, Sweden and the Czech Republic; which will create over 400.000 square meters of bee flower pasture. In the Netherlands, a  popular 1000 km long cycle track along farms and countryside called the "Potato trail" is being transformed into a "Bee  path". More than a thousand consumers have already applied for the free flower seeds to sow along the track, like Olga from Amsterdam, who wrote: "What a great initiative! I love cycling and want to help save the bees from dying out. Please send me some of those seed bags."
It would be great if an organic producer could do the same in the UK, as according to the "Bees love organic" campaign, bees have better survival chances with organic farming, not only because pesticides aren't used, but also because organic farming increases biodiversity. Nature & More founder Volkert Engelsman: "Since the '90's of last century we have been trying to get across that "organic" means much more than not using chemical inputs. Farmers in Asia, America and Europewho work with us, recognize that the future of agriculture must lie in teaming up with nature, instead of fighting it. The bees are our allies, so let's support them."
More info: enter "BEE" at www.natureandmore.com