The kitchen is full of appliances which use energy and/or water so think about how you use them, and when you need to replace them buy the most energy, and water, efficient model possible, visit Sust-it, to check the best.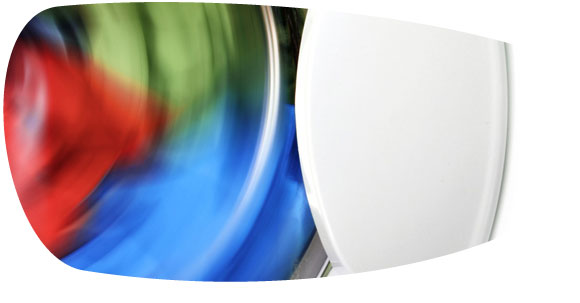 When using your washing machine using a 40°C wash cycle rather than 60°C means you use a third less electricity. Reduce the wash to a 30°C cycle and the amount of electricity saved (not to mention money) will be even higher. Most washing powders work just as effectively at lower temperatures. Only run the machine when you have a full load, or use the half load or economy settings. If you have a dishwasher run it only when it is full.
If you are buying a new washing machine, tumble drier, dishwasher or electric oven go for an energy efficient one. By law, they must carry the European Energy Label. This rates products from A (the most efficient/least energy used), down to G (the least efficient/most energy used).
The best energy efficient Washing Machines
The most efficient products also carry the Energy Saving Recommended logo, but it is worth checking on Sust-it for the most energy efficient models. For washing machines and dishwashers the label will also give information and a rating (again A is best) for washing performance. Look for information on how much water they use as well. A new energy efficient washing machine or dishwasher may use up to 40% less energy than an old inefficient model. Look for longevity too, although it may cost more initially, if running costs are less and the machine lasts for 20 years instead of five, it is better for you and the environment.
Cookers, hobs and ovens generally use gas or electricity but Rayburns can run on natural or propane gas, kerosene or diesel oil, solid or multi-solid fuel, and can provide hot water and central heating as well as being cookers. Many people find gas more controllable but good ventilation is essential. If one is buying a separate hob and oven one can choose gas for one and electric for the other, and some cookers are dual-fuel. All electric hobs and ovens have to have an European energy rating (A is best). Induction electric hobs are more efficient than conventional electric, ceramic or halogen hobs and respond as quickly as gas because they use different technology (see theinductionsite.com).
The Centre for Alternative Technology sell the Greenheat range of environmentally friendly fuels and fire-lighting products and picnic stoves derived from a totally renewable plant source – sugarcane. Intended to replace traditional petroleum-based products they are non-spill, non-flare, non-explosive, smokeless, odourless, will not taint food and produce high heat output.