Travelling around the UK or Europe by boat is a fabulous eco way to experience the countryside, and explore the network of rivers and canals. From a narrowboat on the Norfolk Broads to boating in Belgium, there are plenty of places to choose from in England, Wales and Scotland, and also wonderful rivers and canals to discover in Ireland, France, Croatia, Germany, Italy and Holland too. Also don't forget the lakes for a holiday that allows you to escape from the hustle and bustle of daily life.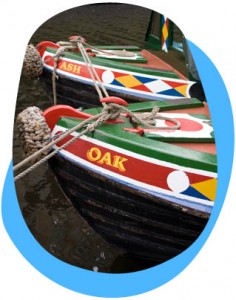 British Waterways have lots of information about where you can go and what you can do on our inland waterways including fishing, walking, cycling and bird watching.  For a truly relaxing holiday what can be better than cruising along the canal, stopping for a pub lunch, or hopping on a bike to explore the local area?  Or mooring over night along the Canal du midi, in France and popping out for croissants in the morning.
Lots of boats let you take your pet on holiday with you, so you save money on kennel bills and your dog get to go on walks with you!
Even just for a day out canals and rivers in the UK are special places to visit, with lots to do and see. They are great places to observe wildlife, discover the different flora and forna and enjoy the fresh air. There are good cycle routes along many canals and opportunities for fishing, day hire of boats, canoeing, and on the lakes the chance to learn windsurfing, kayaking, sailing.