A product-by-product guide to recycling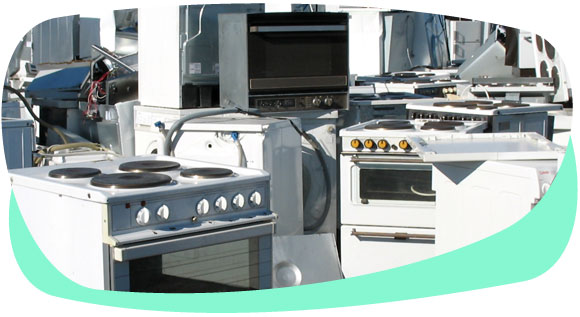 Aerosols: these can be recycled in some can banks (check the front of the bank for details); do not crush the aerosol can, and make sure it's empty.
Aluminium foil: Details of local foil banks and of organisations and charities which collect and recycle foil can be found through the Aluminium Packaging Recycling Organisation (Alupro) with lots of information on aluminium and its recycling. Don't put foil in can banks because aluminium cans and foil have a different composition.
Batteries: Rechargeable nickel-cadmium batteries are toxic waste and must be sent back to the manufacturer (many have freepost addresses for this). Ordinary household batteries and the new rechargeables contain no toxic chemicals. Silver oxide button cells (as found in cameras) can be given to jewellers, who recover the silver from them. Car batteries should be given back to the supplier for recycling.
Bicycles: Re-cycle sends old bikes for rehabilitation and use in the developing world.
Books: Taken old and unwanted books to the nearest charity shop or even sell on eBay.
Cans: Visit Recycle More or Wasteconnect for details of your nearest can bank. The Cash for Cans scheme enables good causes to earn money from recycling aluminium cans. General information on recycling can be obtained from Alupro (aluminium cans).
CDs: many imaginative uses have been suggested for unwanted promotional CDs, whether as mobiles for children with learning difficulties, coasters for your cups or just suspended over the vegetable plot as bird scarers; all ideas welcome!
Christmas trees: five million are bought in Britain each year – if you buy one, make sure its recycled afterwards (many become mulch for park flower beds); contact your local council. Like other garden waste Christmas trees can be composted – see the Green Choices gardening pages for more information and contacts about composting.
Computers: there are increasing numbers of companies which collect and refurbish computer equipment. Some have minimum quantities which they will collect and they may not collect very old equipment. Some also sell refurbished computers cheaply to schools and good causes.
Furniture: the Furniture Reuse Network is the national body which supports, assists and develops charitable re-use organisations, including local furniture recycling schemes, across the UK. Their website includes an interactive map of charities who accept furniture or appliances. Some charities and some charity shops take furniture if it is in good condition. So do local auction houses.
Glass: as well as kerbside collections in some areas, there are over 20,000 bottle banks in Britain; blue glass should be recycled together with green.
Green stuff: kitchen and garden waste makes up a third of all household waste; start your own compost heap today (see Green Choices gardening section). In some areas local authorities or community schemes may collect compostable material. If you want to set up a community composting scheme contact the Community Composting Network which supports and promotes the community management and use of waste bio-degradable resources.
Junk mail: many councils now accept envelopes with plastic windows in normal paper recycling facilities; to have your name removed from junk mailing lists, register free with the Mailing Preference Service.
Mobile phones: several schemes exist which collect and refurbish or recycle mobile phones, and some charity shops may collect mobile phones.

cartridges4charity.co.uk recycle mobiles as well as printer cartridges.
CRUMP (Campaign To Recycle Unwanted Mobile Phones) from Child Advocacy International. Donated phones and computer inkjets are sold on to be recycled or reconditioned with the money supporting healthcare for children affected by poverty, war and violence.
Environmental Mobile Control specialise in providing simple buy back and recycling solutions for surplus mobile phones.
Redeem specialise in the recovery, recycling, buying and supplying of used printer cartridges and mobile/cell phones and provide substantial revenue streams to charities, NGO's, schools, community groups and commercial organisations.
Vodafone operates a mobile phone recycling scheme.

Apple's Renew programme makes sure your old iPhone is recycled responsibly or given a chance to be used again. You can even get a Gift Card in return for qualifying products.

Oils: Old engine oil can prove both messy and hazardous if not disposed of properly. Oil poured down the drain or sink is a major cause of water pollution. However used engine oil can be recycled. Solve these problems and save resources at the same time. There are more than 1,500 oil recycling banks throughout the UK and Northern Ireland. To find your nearest visit Oilbankline.
Paint and chemicals: Donate half empty tins of paint to an exchange scheme.
Community RePaint is a network of paint reuse schemes across the UK. These collect leftover reusable paint from householders, and redistribute it to those who need paint but cannot afford it. Unwanted household or garden chemicals can sometimes be recycled – see the 'virtual house' on the National Hazardous Household Waste Forum site. The NHHWF also gives guidance on how non-recyclable hazardous waste can safely be disposed of.
Newlife Paints is the first company in Europe to recycle emulsion paint, stopping 2 tonnes of paint a week from going to landfill. They produce high quality paint, "as good as Dulux" as quoted by one reviewer. The Managing Director is an Industrial Chemist, so the paint is tested in the lab and is returned to it's original quality, with it's original shelf life. Offering 23 colours, in matt, eggshell or silk and can also provide colour matching. The paint is available on-line, from various stockists including B&Q.
Paper: if your council has no facilities for recycling paper, it should. The Confederation of Paper Industries website  has information and factsheets on paper recycling.
Phone books, Yellow Pages: some councils collect telephone directories only, while others take both; most paper banks take neither.
Plastic: there are now 210 plastic recycling schemes with 4,115 plastic bottle collection banks and 125 kerbside schemes but not all authorities recycle plastic so you may need to badger your local authority. RECOUP has more information and statistics on recycling plastic bottles and other containers.
Printer and toner cartridges: many groups now provide a recycling service for individuals as well as businesses, with all proceeds going to charity. Some of the companies listed above under computers and under mobile phones also recycle printer and toner cartridges. For information and advice on reconditioned and recycled cartridges contact the UK Cartridge Recyclers Association (UKCRA) which sets the standards for the industry.
Shoes: as well as the normal charity outlets, the European Recycling Company runs a national network of collecting points for second-hand shoes which are sent out to developing countries for refurbishment and reuse.
Tools: carpentry, building and blacksmith tools are always required for reuse in the developing world by Tools for Self Reliance who repair and refurbish them. They work with local organisations in Africa, providing tools and training to help artisans and craftworkers.
Videotapes: if they're still in good order, take them to charity shops; when broken they have to be thrown away (recycling services will only accept videos in bulk from businesses).
Water: grey water (water which has been used once in washing etc) can be used again. CAT have a tipsheet on  making use of grey water (look under CAT titles). See the Green Choices section on water in the home for advice.