Fridges and freezers are on all the time and can use a lot of energy. If you are buying a new one make sure you get an energy-efficient model. Check out the running costs on Sust-it . If you have an old (over 10 years) fridge or freezer, it could be cost effective to replace it, as energy efficiency has improved 25% since 1990.  But don't be tempted to keep your old appliance as a "second fridge/freezer".  All fridges and freezers sold in Britain are required by law to carry the European Energy Label, which rates their efficiency in energy use. Fridges and freezers account for 17% of all domestic energy used in Britain, and choosing an efficient model will save on running costs. The most efficient models carry the A++ grade, the least efficient G. Larger ones generally use more electricity than smaller ones, and chest freezers are slightly more energy efficient than upright ones. A fascinating, but not very recent, article about energy consumption in fridges in America, includes a short history of refrigeration.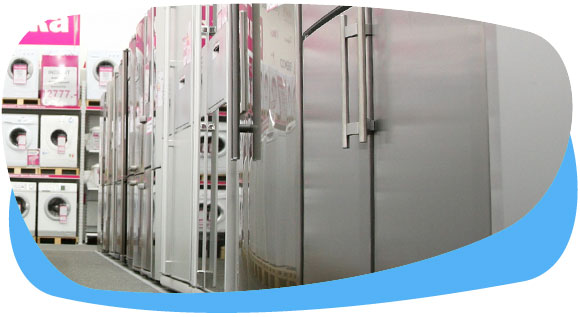 When buying a new appliance, check out the running costs on Sust-it.
The Energy Saving Trust manages the Energy Saving Recommended logo, which endorses products that are amongst the most energy efficient available.  In the 1980s a major concern was that fridges and freezers used chlorofluorocarbons (CFCs) which were destroying the ozone layer but the use of CFCs was phased out by 2000 under the Montreal Protocol. Some of the substitutes for CFCs, notably HFCs (hydrofluorocarbons) and HCFCs (hydrochlorofluorocarbons), are powerful greenhouse gases and affect the ozone layer, and are also being phased out. Greenpeace ran a campaign on this issue and promoting Greenfreeze technology which uses a mixture of propane (R290) and isobutane (R60Oa), or isobutane as a pure gas, for the refrigerant, and cyclopentane for blowing the insulation foam. According to Greenpeace, Greenfreeze has become the dominant technology in North Western Europe, since 1992, having taken over nearly 100% of the German market. A UK government report published in 2004 stated that HFC domestic refrigerators represented 3% of the UK market; these are mainly large American refrigerators. However it is possible that some of the cheaper fridges and freezers may use HFCs. When buying a new fridge or freezer find out what refrigerant is used. If you need a freezer as well as a fridge, bear in mind that Frost Free freezers use more energy than manually defrosted ones and that chest freezers may be more energy-efficient as less cold air escapes when the lid is opened.
Ethical Consumer's online shoppers' guide has an informative article on fridges and freezers, published in early 2005. Their 'ethiscore' rates companies on ethical criteria covering environment, sustainability, animals, people and politics, based on recent research.
B&Q mark many of their fridges and freezers with a symbol indicating that the appliances use a more efficient cooling agent called R600A (isobutane) and explaining that it has a negligible effect on the environment and on global warming in particular.
Bosch say all their fridges and freezers are HFC and CFC free. The refrigerant they use is R600a (isobutane) and the insulation is Pentane. They also say these substances are easily processed at the end of the product life and are far more environmentally friendly than previous types of refrigerant. They add that all of their appliances and their components are labelled for recycling.
John Lewis say:  all the refrigeration appliances that they stock are free of 'CFCs (chlorofluorocarbons, potentially damaging to the ozone layer), and also free of HFCs (hydrofluorocarbons, which may have an effect on global warming)'.
Miele's website states clearly 'All Miele's refrigeration products are CFC- and HFC-free. The harmful substances in the insulation material have been replaced by Pentane and in the coolant by Isobutane (R 600 a).'
Siemens website says 'All Siemens cooling appliances have low energy consumption. Recyclable plastics are used in the products. Models are free from HFC's and CFC's (gases that cause long term damage to the ozone layer).'
Zanussi and AEG Electrolux are part of the same group. Their corporate website includes information on their policies on sustainability with statements on global warming, hazardous substances and ozone-depleting substances. Electrolux uses the phase out of ozone depleting substances as one of its key product performance indicators.
At the end of your fridge or freezer's life, make sure it's disposed of safely. The suppliers of your new fridge or freezer may be prepared to take away your old one for safe disposal, or contact your local authority. It is important that the parts are recycled and the old fridge not re-used  (see the Green Choices recycling section).