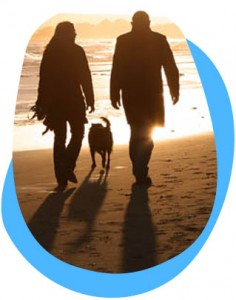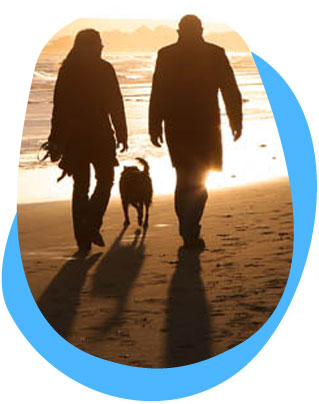 This takes a whole different set of skills and attitudes. You'll become aware of public transport, and the possibilities of lift sharing. You'll get fitter, as you get used to walking, cycling, and carrying your shopping. You'll need different accessories – you might be out in the sun and the rain more, and you'll need rucksacks, bicycle panniers, and wheeled luggage to take the strain. Space will once again be measured in miles, not in hours: some journeys will be blissfully free and easy, as pleasant pathways lead you away from the traffic jams, others will be a logistical challenge. There are lots of options, see later sections for more on motorcycles, bicycles and public transport.
Walking is an undervalued means of transport, and a great form of gentle, regular exercise.
Living Streets (the Pedestrians Association) are champions of streets and public spaces for people on foot and work on practical projects to create safe, vibrant and healthy streets for all.
The Ramblers' Association promotes walking, improves conditions for everyone who walks and campaigns for the Right to Roam in the countryside.
Sustrans – the sustainable transport charity – takes a practical approach to encouraging walking, cycling and use of public transport. They are developing a National Cycle Network. Their TravelSmart project works with households (in selected areas) offering tailor-made information and support which allows people to walk, cycle and use public transport more often.
walkit.com is an on-line urban walking route planner. A great way to find routes to walk when visiting new towns or cities – or even for walking around areas you know.
Car Free Walks is a great website which offers free and easy-to-use guides for walks throughout the UK that are accessible via public transport. Helping minimise the environmental impact of leisure walking.
Home Zones are places where pedestrians and cyclists have priority, making for quieter and safer living spaces.
If you add up your car costs, using the calculator downloaded from Carplus, you may find that without all those regular bills you could afford to take a taxi or use a hire car or van instead when you needed to. Or maybe liftsharing or joining a car club would work for you – see below.
Lift sharing and car clubs
Liftsharing is a service where a driver headed in a particular direction is put in touch with others who need a lift. The journey can be anything from a one-off trip to a festival to a regular commute to work. The emphasis is on security and on choice – responsible lift share operators will be very careful not to make your personal details public, and nobody is expected to offer or accept a lift that they're unhappy about. Usually the person receiving the lift will make a contribution towards the journey cost; sometimes they will also help with the driving.
Liftshare – founded in 1997, runs a free, UK-wide service.
shareAcar is a commercial service, started in October 2002. Their small membership fee is taken as a credit card payment, which enables them to verify the name and address of every user, for added security.
Car clubs are a way of having a car to use when you need one, without having the trouble and expense of owning a car. A car club can be anything from a few individuals sharing cars amongst themselves, and arranging informally who uses them and when, to a city-wide car club business, with online booking, smart card technology for accessing the cars, and paid staff to run the system. Members will typically pay a flat membership fee, plus a usage rate based on miles and/or hours driven.
CoMoUK promotes shared transport, including Car Clubs, Bike share and 2+ ride share
Need a taxi?
There are some instances where, if you don't own a car, you might need a taxi; to get you to the airport or to a hospital appointment for example. When just one person is travelling using Smart cars, and offering a cheaper fare, makes good sense.