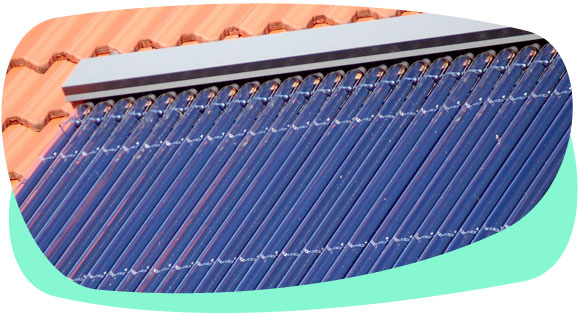 Solar-powered hot water systems generally use panels mounted on the roof to collect the heat from the sun and use it to heat your domestic hot water. Although they require substantial investment, installing a solar-powered hot water system could reduce water heating costs significantly and pay for themselves in the medium term. There are many systems available but even in the UK a properly installed system should provide ample hot water in summer and reduce water heating costs in winter.  Solar water heating systems can be built and installed on a DIY basis. The Centre for Alternative Technology Green Shop can provide factsheets and books on solar heating. The Renewable Energy Centre website contains information on generating energy from renewable sources with links to suppliers and contractors. The Low Impact Living Initiative has a factsheet and runs a self-build hot water course and sells a solar hot water kit.
Solar water heating panels are not the same as solar photovoltaic panels. Photovoltaic panels use the energy from the sun to generate electricity. Small ones can power calculators and garden lights, larger ones are very expensive but could supply electricity for lighting, refrigeration and running electrical appliances. More information is available on the National Energy Foundation website.
OFGEM's Domestic Renewable Heat Incentive is a government financial incentive to encourage a switch to renewable heating systems. The Energy Saving Trust has a section on their website where you can search for grants for home energy improvements, including renewable energy schemes. Grants are also available under the Low Carbon Buildings Programme, to community groups, charities and other not-for-profit organisations.
Suppliers
There are many companies who manufacture and/or install solar water heating systems. As installing one entails considerable investment, it is important to look into the issues carefully and make sure that the system that is being proposed is really suitable for your circumstances. The Solar Trade Association promotes solar hot water in the UK and their website includes a database of their members, who include advisors, manufacturers and installers of solar water heating systems. Some are listed under renewable energy suppliers.