You don't have to go trekking in Nepal or fly to the alps to enjoy a walking holiday. Walking in the UK is a great eco holiday, with fabulous scenery to enjoy, some magical places to stay and an a good network of footpaths, a holiday in the UK has so much to offer. If climbing Snowdonia in Wales or bagging a munroe in Scotland floats your boat or you fancy the challenge of a coast to coast walk, or a long-distance route there is plenty of variety to choose from.  Even if you just want to book a cottage by the sea and walk along the coastal footpath or find a campsite in Devon to explore the countryside on circular day walks, your impact  will be far less than flying to Spain in search of some sun.
Choosing a walking holiday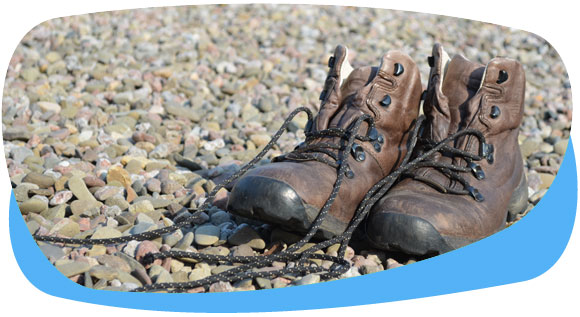 If it's long distance you want the Long distance walkers Association is a good source of information, on over 70 routes across the UK. For walking in England and Wales, there are 15 officially designated 'National Trails', adding up to about 2,500 miles (4,000Km) available to walk, including the famous Pennine Way and the Cotswold Way or the less well known Yorkshire Wolds Way. All offer challenge, stunning views, and are generally well maintained and waymarked, taking the strain out of planning a route. The Ramblers Association also offer complete holidays both in the UK and abroad, and singles walking holidays also, providing a great way to go it alone and meet new people at the same time. Taking a holiday to complete a long distance walk for charity is growing in popularity – walking Lands End to John O'groats or Wainwright's Coast to Coast route are great achievements.
If you take the ferry to France,  Holland, Spain or even Ireland a walking holiday abroad can be a green option too.  And for that feeling of leaving these shores the Isle of Wight is a great destination for walking with a good network of footpaths and plenty to do there also. They hold an annual walking festival too.  Leave the car behind and take a boat to the Scilly Isles to get away from the hussle and bussle.
Another benefit of a walking holiday is you can take your dog on holiday with you. Saving on kenneling fees and giving your pet plenty of exercise. Lots of B&B and hotels who welcome walkers allow well-behaved dogs, but advanced planning is needed.
Where can you walk?
England and Wales has a good network of over 140,000 miles of footpaths and also bridleways, most (but not all) are marked on Ordnance Survey maps scale of 1:50000 as a broken pink line for footpaths or green on OS Explorer maps. Bridleways are marked as a blue dotted line, cyclist as well as horseriders are permitted to use bridleways. Footpaths are usually marked along the route by yellow arrows, and along the highway by wood or metal finger posts. If you are unsure about the law on footpaths check out the Ramblers Association site.
Where to stay?
There is plenty of accommodation to chose from when organising a walking holiday – from pitching up your own tent or finding B&B's, booking a cottage with walks nearby  to four star luxury hotels with swimming pools to relax in after a hard days rambling.
For a really budget holiday staying at Youth Hostels is a great way to keep costs down. Set in some glorious locations. most hostels now have family rooms available, which can cost as little as £29 per night, or £10 per night for a bed.  The YHA can even offer a luxury camping experience at Grinton Lodge in Swaledale, North Yorkshire, with camping pods – sort of wooden tents – they look a bit like pig pens for people! You still need to bring your own camping equipment – sleeping bags etc, but you don't have the hassle of carrying a tent.  Another form of cheap accommodation available in the countryside are bunkhouse barns or camping barns – 'stone tents'. You can stay for as little as £6.50 per night, but again you will need your own sleeping and cooking equipment. The YHA has about 30 camping barns in it's network – all owned and run by farmers.
Can you have a family walking holiday?
With a bit of organisation you can, there are plenty of companies who specialise in organising walking holidays with children. Think of the adventure of walking to a different campsite or B&B every night! With very young children you obviously need to be realistic on the distances and terrain they can walk, and under the age of 7 or 8 staying in a log cabin and taking daily walks combined with other day trips or booking a caravan close to footpaths to the beach, is a better option. With older children and teenagers, they should be able to walk a reasonable way – even if they moan they can't!